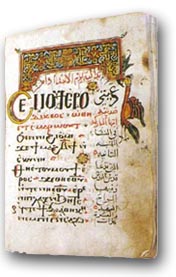 The Coptic Language
Coptic is the language of the Copts, the indigenous Egyptian Christians which represents the final stage of the ancient the Egyptian language. It is in use in the liturgical services of the Coptic Church.
Interested in typing in Coptic on your computer?
Learn Common Coptic Greetings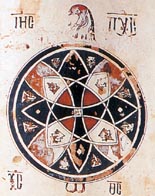 The Coptic Alphabet
The present 32 letters of the Coptic Alphabet are derived from two sources; The first 25 letters are modified from the Greek alphabet (table 1); it should be remembered that the origin of these Greek letters can be traced back to the old Egyptian letters. Whereas the last 7 letters are a modification from Demotic letters (table 2).
Shape
Letter
Pronunciation
Ⲁ
ⲁ
Alpha

A

father or fan
Ⲃ
ⲃ
Veeta
B In beginning of the word
V In the middle or the end of the word
boy
Victor
Ⲅ
ⲅ
Ghamma

G
Gh
NG if there are two consecutive <>Ⲅ

Gone
England
Ⲇ
ⲇ
Delta

TH
D in names

then
David
Ⲉ
ⲉ
Ei

E

pen, or as rain
Ⲋ
ⲋ
Soo
Only used as the numeral 6
sow
Ⲍ
ⲍ
Zeeta
Z
zebra
Ⲏ
ⲏ
Eeta
EE
mee

t

Ⲑ
ⲑ
Theeta
Th
T
th

ink

Ⲓ
ⲓ
Iota
I
Y
imagine
yet
Ⲕ
ⲕ
Kappa
K
cook
Ⲗ
ⲗ
Lamda
L
l

ook

Ⲙ
ⲙ
Mei
M
m

other

Ⲛ
ⲛ
Nei
N
N

ancy

Ⲝ
ⲝ
Eksee
X
box
Ⲟ
ⲟ
O
O (short)
no

t

Ⲡ
ⲡ
Pee
P
P

eter

Ⲣ
ⲣ
Ro
R
r

oom

Ⲥ
ⲥ
Seema
S
see
Ⲧ
ⲧ
Tav
T
D if preceded by the letter <>Ⲛ
t

ake

Ⲩ
ⲩ
Epsilon
V if follows an <>Ⲁ or <>Ⲉ
U if follows the letter <>Ⲟ
Y in all other cases
Van
Loop
Hymn
Ⲫ
ⲫ
Fei
F
f

an

Ⲭ
ⲭ
Kai
K
Sh
Kh

kin
shawl
Arabic خ (kh)

Ⲯ
ⲯ
Epsee
PS (both are pronounced)
Ⲱ
ⲱ
O
O (Long)
throw
Ϣ
ϣ
Shai
Sh
shake
Ϥ
ϥ
Fai
F
fan
Ϧ
ϧ
Khai
Kh
Arabic

خ

(kh)
Ϩ
ϩ
Horee
H
house
Ϭ
ϭ
Cheema
Ch
church
Ϯ
ϯ
Tee
Tee
tee
Ϫ
ϫ
Janja
G
J
go
joy
̀
Jinkim
Splits word in syllables if over a vowel
E if followed by a consonant
Coptic Fonts and How-to type in Coptic