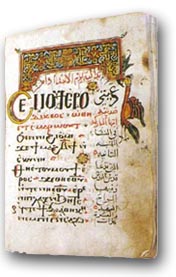 Coptic Fonts and How-to type in Coptic
The large majority of browsers have built-in support for reading Coptic. If you can read the following in Coptic then your browser can read Coptic.
Ϧⲉⲛ ⲫ̀ⲣⲁⲛ ⲙ̀Ⲫ̀ⲓⲱⲧ ⲛⲉⲙ Ⲡ̀ϣⲏⲣⲓ ⲛⲉⲙ Ⲡⲓⲡ̀ⲛⲉⲩⲙⲁ Ⲉⲑⲟⲩⲁⲃ: Ϯⲧ̀ⲣⲓⲁⲥ ⲉ̅ⲑ̅ⲩ̅ ⲛ̀ⲟ̀ⲙⲟⲟⲩⲥⲓⲟⲥ.
We highly recommend that any future and existing Coptic text use the Unicode Standard so Coptic text can be read on all devices including mobile phones without the need to install any additional fonts.
Typing Coptic on Windows
To type in the Coptic language on Windows 10, you will need to both install the Greek language and the Coptic keyboard as Windows does not natively support Coptic.
Step 1 - Install Greek Language
Go to the Start Menu, Settings, Time & Language, Language
Click + Add Preferred Language, Greek, Next, Install (you don't need Text-to-speech and Handwriting).
Wait until the install is complete before proceeding.
Step 2 - Install Coptic Keyboard (Coptic Standard)
Unzip file and Run Setup.exe.
When complete, restart the computer.
After restart, go to: Windows, Control Panel, Time & Language, Language,
Select Greek, click on Options, + Add a keyboard.
Scroll down to: Coptic CS.
To change to the Coptic keyboard highlight ENG in your taskbar and choose Greek - Coptic CS
You can now type in any Windows application or your browser.
Normal State


Shift


Alt + Ctrl (AltGr)


Typing Coptic on Macs
Unzip and copy file to ~/Library/Keyboard Layouts.
System Preferences, Keyboard, Input Sources, Add (+), Others, Coptic CS, Add
You can now switch languages from the main menu.
Typing Coptic on Android Mobile Phones
Open keyboard, tap on Globe, Language settings, Add Keyboard, Coptic.
Download Coptic Fonts
You can install these fonts to create documents in Coptic. The following are unicode Coptic fonts that are recommended for use.
To install them download the file, unzip, then double click to open the font and click on Install.
Noto Sans Coptic by Google
Download More information
Antinoou
Download More information
Convert Text to Coptic Unicode
Convert legacy text written in CS Coptic Fonts and older fonts to the Unicode Coptic standard. Please do not use the following fonts for any future projects and instead use Unicode.
Convert Text
Download old CS Fonts